Technology is literally on a roll at WRPS with the introduction of robotics across all stages. Our school is very fortunate to have received a government grant to implement the 'Future Technologies' project led by Mr Lane. This funding has been used to resource a mobile laptop lab which is accessible to all classes, Osmo kits and Bee-Bots for Kindergarten and Stage 1, Sphero Robotics for Stage 2 and 3, Makey-Makey kits for enrichment groups and we have further scope to increase the resources in 2019.
The Future Technologies Project has allowed for the training of all staff on the use of Bee-Bot and Sphero robotics as a way to engage students in their learning. This differentiated approach to teaching and learning means that students are accessing basic computer programming skills at an early age, which is then built on throughout their schooling. Coding encourages students to think critically about their learning and develops problem-solving skills in a 21st century learning environment. Some different ways coding has been used in the classroom to engage students include- creating interactive timelines, mapping the First Fleet's voyage, creating planetary orbits, distance vs time, estimating area and perimeter and finding supplementary angles.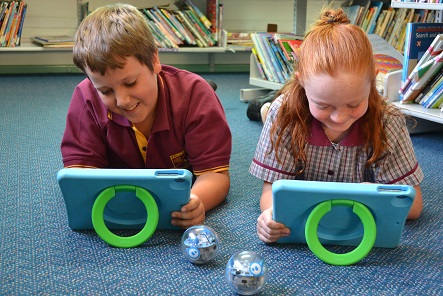 Stage 2 and 3 have the opportunity to be involved in coding, movie making and EV3 Robotics enrichment groups where their knowledge from the class level is scaffolded. Students are learning to create video game programs, make animations, develop their own code to solve problems, use circuitry to create their own game controller, edit movies using different types of software and use critical thinking and collaboration to solve a task. Students have thoroughly enjoyed using Makey-Makey to create their own controller, with some fantastic ideas coming to fruition such as- the green apple controller, the five-student controller and even a piece of paper!
We are currently trialling the use Of Minecraft Education with Stage 2 and 3, with very positive feedback from the students. The technology classes have been a buzz, with collaborative conversations on design and construction in the Minecraft world. Stage 3 have worked on designing a new parliament house, whilst Stage 2 have worked on designing a new bridge for Sydney Harbour, in addition to finding the perimeter and area of shapes.